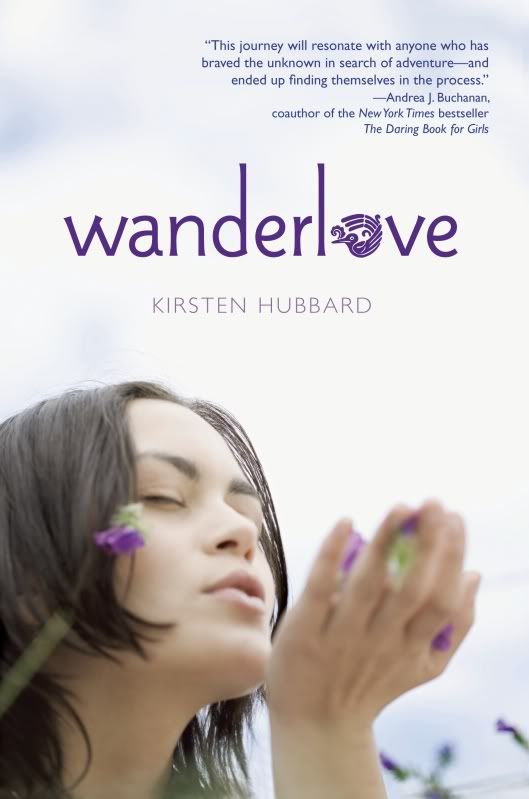 Plot Sketch
: Bria's friends don't think that traveling with her after graduation is such a good idea because she's still processing her break-up with Toby. So, they bail on her, thinking it will force her to stay and confront what's going on in her emotions. And what does she do? She heads down to Guatemala with Global Vagabonds, a tour group that she thinks will be filled with fabulous people. But to her horror, the people are anything but fab. Seeing the backpacking people her same age, she is immediately envious of their travel choices and wishes she could be as carefree. But she's stuck on the tour with no one her age. That is, until she meets Rowan and he invites her to their hostel, and gives her a little taste of what backpacking through South America is like, exposing her to a way that will challenge her, enlighten her, and ultimately change her in ways she never imagined.
Verdict
: Wanderlove is a nice change of pace for YA lovers. It's a contemporary teen coming-of-age tale, with an eighteen-year-old protagonist, allowing Bria a journey with more options than your typical coming-of-age path simply because she's legally an adult. We need more YA like this! We need more YA that has advanced themes of self-discovery and consequence. And not just for the adults who read YA. This has so many poignant teaching moments that I wish I would have seen somewhere as a teen:
Don't change your future because of a boy.
Don't betray your plan because it's not easy.
Don't underestimate your parents.
Live in the moment.
Love in the moment.
Live life with meaning.
Forgive.
Make the most of what you have.
It's okay to change your mind.
I totally want to backpack through Central America now thanks to the amazing details and settings that made the characters and plot just come alive. As Bria's character develops, the format of the book changes to reflect her growth. The more she grows, the more we are treated to her pencil sketches in one of her sketchbooks. I thought that evolution was done very nicely.
I also thought that the characters were deep. They were complex and evolving and made for a very good read because they weren't super predictable,even though the story arc seemed like it should be. Writing this story in the present tense was absolutely the right choice because it helps teach the reader a great lesson about living in the moment and making adjustments to your philosophy on the fly, and it kept us guessing as to what was really going to happen next.
I feel lighter having read Wanderlove, happier. I haven't been able to say that about a book that I've enjoyed in a while. It toyed with my emotions, but left me on a high note. It is sure to enthrall you and suck you in to the Central American landscape just as it did me. Now, someone find me a tamale from a street cart... I'm feeling adventurous... itching for a backpacking trip to Guatemala or Belize or heck, anywhere, please. (Who am I kidding? I love pillows.)
Parents: There is strong language in the book. It's not excessive, but it is present. There is no sex, but there is a mention of how Bria lost her virginity and how she regrets it. And the impact of that decision and the self-hate she displays for it manifests throughout the entire book. There is mention of drugs. There are no scenes with main characters doing drugs, but one of the main characters alludes to having a past in selling and distribution. No violence. I'm thinking it should be okay for fourteen and up... depending on your stance on the language.
If you liked ABC's Off The Map, or if you like to travel, or read about exotic places, this is your story. Wanderlove by Kirsten Hubbard releases tomorrow!
More Info:
Kirsten Hubbard's new book, Wanderlove, is set in Central America. But not just in one location -- in over a dozen! Wanderlove settings range from bustling capital cities to dense rainforest to tiny Mayan villages to idyllic Caribbean islands, and each is special in its own way.
Most exist in real life; all are based on real life. We're very excited to share these amazing places with you in the novel -- and on the brand new Wanderlove-themed Tumblr site.
Kirsten is hosting a HUGE giveaway starting tomorrow, March 13th, at
http://kirstenhubbard.blogspot.com/
and YA Highway -- with prizes including Wanderlove art prints, bookmarks, and bracelets just like Rowan's.
Kirsten will also be featuring all the destinations in Wanderlove, with photos she took herself over the years. She'll cross-post her personal Wanderlove posts here as well as Tumblr, so you can follow along on Bria's journey in either spot.