Description:
When I was yet a very young woman I threw my heart away. Ever since then I have lived heartless, or almost heartless, the way Humans think all Fey live.
Among the towering trees of magical Avalon, where humans dare not tread, lives Niviene, daughter of the Lady of the Lake. Her people, the Fey, are folk of the wood and avoid the violence and greed of man. But the strife of King Arthur's realm threatens even the peace of Avalon. And while Merlin the mage has been training Niviene as his apprentice, he now needs her help to thwart the chaos devouring Camelot. Niviene's special talents must help save a kingdom and discover the treachery of men and the beauty of love...
My Two Cents:
MERLIN'S HARP does not contain your typical Arthurian legend. It's got a fresh take on the old classic which is exhilarating to say the least. The writing is not usually a style I enjoy, but this had a sort of theatric appeal to it. I believe that I read that this is a re-release into the YA market, and it definitely belongs in the YA section. On the other side of the coin, this is more fantasy than I usually invest myself in, so I wasn't absolutely enamored with it. It's definitley worth your time if you have a love history with Arthurian novels! In short, if you like the genre, your going to like MERLIN'S HARP. But don't just take my word for it, read the first chapter and see for yourself:
Merlin's Harp Chapter 1 Excerpt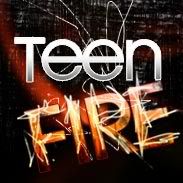 To help us celebrate our birthday, Sourcebooks has given us one copy of MERLIN'S HARP to giveaway! Enter your vitals below to be entered to win! US Only, sorry folks. Check out the Teen Fire Social Network brought to you from Sourcebooks for more reviews and interaction with Teen Fire authors! Clicking the badge will take you to the site.
CTRL + click this link to open form in a new tab
.