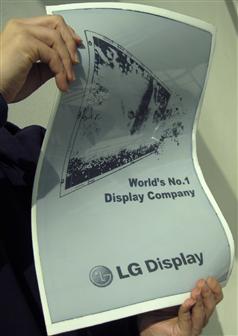 Have you seen LG's latest technological development in the field of e-readers? They've debuted a working prototype of a
flexible, newspaper-sized e-paper reader
. The display is 25x40cm and .03mm thick. Resistors are on a metal foil, like
Hearst's Skiff e-reader
, and are able to regain their shape after being folded, unlike the usual glass- or plastic-mounted resistors. Think
Minority Report
technology here folks.
Demand for e-paper is rising on the heels of the popularity boom of e-readers like the
Kindle
and the
Nook
, and LG is hoping to go into the production phase of an 11" sheet of e-paper in the first half of this year. The potential to incorporate videos and other multi-media features will no doubt stimulate the struggling newspaper industry. Too bad this technology didn't debut a few years earlier... maybe some of the dailies that went under in the last few years could have adapted and saved themselves? We'll never know.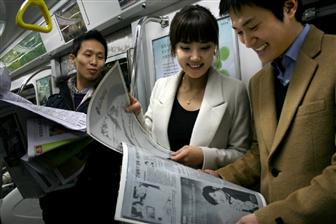 Right now, the downside of these prototypes is that they are black and white only. We don't know what the cost will be either.
LG is the world's second largest manufacturer of LCD screens, behind Samsung and is based in Seoul, South Korea.
So, what do you think?
Do you think you might be tempted to buy and play with e-paper?
Do you think that this is the way news will be delivered in the future?
What are your overall impressions of this new direction in tech?
For those of you who like to hold your books, and hold your newspapers, do you think this thin e-paper is a good thing or will the jury still be out?
Oh heck, just tell us everything you're thinking - questions, concerns, you name it!