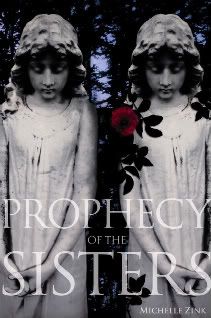 Title:
Prophecy of the Sisters
Authors
: Michelle Zink
Release Date:
08.01.09
ISBN-10
: 0316027421
Website
:
http://michellezinkbooks.wordpress.com/
The Usual Questions:
Is this the first in a series?
Yes, this is the first in a series! The second book will be coming out next year and is titled Guardian of the Gate.
What is the basic concept?
Twin sisters Lia and Alice Milthorpe have just become orphans. They have also become enemies. As they discover their roles in a prophecy that has turned generations of sisters against each other, the girls find themselves entangled in a mystery that involves a tattoo-like mark, their parents' deaths, a boy, a book, and a lifetime of secrets.
Lia and Alice don't know whom they can trust.
They just know they can't trust each other.
Is the cover art favorable?
Awesome, I think. Really really cool.
What are some of the author's other works?
This is Michelle's debut!
Notes
:
Keep your eyes peeled for a contest revolving around Prophecy of the Sisters coming soon, right here at I Heart Monster!
Listen to Michelle talk about her book!
Check out the book trailer by Vania of Reverie Book Reviews
Preorder
Prophecy of the Sisters