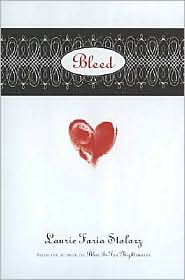 While I'm on vaca, I'm giving away books I didn't like, so keep your eyes open for "Book I Do Not Heart" posts where I'll be giving away books that just weren't for me.
Bleed was too mature for my taste. I found that I just didn't care about the characters. The book has a little water damage on the back, but is in pretty good condition. I just pulled a wetwipe out of the carton, and put the book down on a corner of the wipe and didn't realize that the book was absorbing the water. It was a clean wetwipe, no ickiness, but did a little damage to the book.
As always when sponsored by me, this is open worldwide. Entries close on June 25th 11:59pm, Arizona time and winners will be announced in an aggregate Books I Do Not Heart Giveaways post on May 25th.