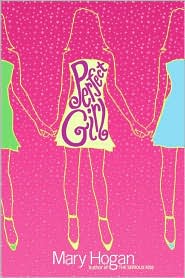 Plot Sketch:
Ruthie Bayer is a small-town girl. She lives in Odessa, Delaware that just about died as a town when the railroad came through and made their shipping port on the Delaware River obsolete. Ruthie lives behind her best friend, Perry's house, where he lives with his mom. Ruthie also lives with her mom, and their renter, Mr. Arthur. Ruthie doesn't actually have a father - she had a sperm donor, literally. Perry did, but he left when Perry was about 2. Ruthie has decided that after being best friends with Perry for as long as she can remember, that she has a huge crush on him. Problem is, new girl aka Perfect Girl also has her sights set on Perry. Ruthie can't talk to her mom about it because her mom is way to overprotective, so she calls her Aunt Marty. Martine the Love Goddess to be more precise. She writes a column about men in a swank New York magazine. Only problem is, Ruthie's been forbidden to contact Aunty Marty. Read the book to find out more!
Verdict:
I Heart It!!
I laughed. I cried. I squealed. I almost threw the book. All in the course of less than 200 pages. I don't know if it's because I read this in the wee hours of the morning, but I loved this book. I literally couldn't put it down. It's witty. It's clever. It has a happy ending. It's a great, quick read and I recommend you pick it up if you like YA chicklit.
The Gauntlet:
At what location does most of the story take place?

Odessa, Delaware, USA
What is the main character's name?

Ruthie Bayer
Does I Heart Monster like the main character?

I totally relate to Ruthie. I love Ruthie. Ruthie is a believable 14-year-old girl with all of the insecurities and frustrations that are appropriate for a girl her age. But she's got spunk and stamina, and that sets her apart.
How long did it take I Heart Monster to finish the book?

just over 2 hours.
Did I Heart Monster get stuck at any points in the book? If so, why?

Not at all.
Is this a good read for Monster?

Nope.
What, if anything, would I Heart Monster change to make the book more interesting?

Nothing.
What was I Heart Monster's favorite line?

"Stars, to me, are a waste of time. Unless of course, we're talking about Orlando Bloom." (she's talking about stars in outerspace)
"How could I ever be average when my father was only sperm in a syringe?"
How many chapters were in the book?

33 - and they're pretty short.
Does the author have a website?

Yes:
MaryHogan.com
Stats:

Hardcover
: 208 pages
Publisher:
HarperTeen
Publish Date:
April 3, 2007
Language
: English
ISBN-10:
0060841087
Acquire It:
Hardcover
Paperback