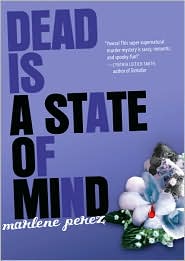 This is a sequel to Dead Is The New Black, read my Inspection of Dead Is The New Black!
Plot Sketch:
Daisy finds out that a teacher has been killed and she's back to sleuthing. She and her sisters with the help of Rose's boyfriend are on the case. Poppy falls in love with someone who isn't quite alive. A new girl moves in and gives Daisy a little bit of competition for a man. On the other hand a new guy moves in and Daisy has a hard time telling him she's not interested. It ends well and I can't say too much more without completely ruining the story.
Verdict:
I Heart It!!
Another hit with the story:time ratio. I liked it, but not as much as the first one. I thought there was a little too much repetition of the first book through the first eight chapters... it was written so that you really didn't need to read the first to enjoy the second, but so much that if you read the first, it was a little annoying. But, once we got past that, it was great.
The Gauntlet:
At what location does most of the story take place?
Nightshade, CA which is near San Francisco
What is the main character's name?
Daisy Giordano
Does I Heart Monster like the main character?
Daisy isn't a cheerleader in this book, so I liked her a lot more. I'm not discriminating against cheerleaders or anything, it's just that the whole culture in general can be annoying at times.
How long did it take I Heart Monster to finish the book?
3 hours (it's not 200 pages)
Did I Heart Monster get stuck at any points in the book? If so, why?
Nope. It went by pretty fast, but I had a few interruptions. It was easy to dive back in though.
Is this a good read for Monster?
Probably not.
What, if anything, would I Heart Monster change to make the book more interesting?
Still wish there was more of a description for the different types of paranormal characters in the story.
What was I Heart Monster's favorite line?
"'I'm so grateful to you, Daizee,' Duke said. "It's my favorite because Daizee and Duke were right after one another and it make me think of daisy dukes.
How many chapters were in the book?
24 short chapters
Does the author have a website?
Yes:
MarlenePerez.com
Stats:
Paperback: 208 pages
Publisher: Harcourt Paperbacks
Publish Date: September 1, 2008
Language: English
ISBN-10: 0152064087
Acquire It:
Paperback
*I found it at Walmart in their YA section for less than $7, but it is eligible for Amazon's 4-3 program.